Princess of Wolves. 'I love the night'
Synopsis.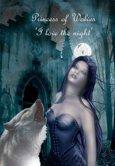 After her mother is tortured and burned for crimes of witchcraft, three-year-old Tamaneshca, the name given by her rescuer, and meaning Princess of the Snow, begins a lonely life at a lakeside castle under the protection of Prince Louis Artheos, Duke of Morvan.
The young lord of a small mountainous region in late 18th century south-eastern France, he is Cousin to Louis Augustus of the House of Bourbon—Louis XVI, King of France and Navarre. His duty as Seneschal of the region is to record the trial and sentence of death passed on the accused. Fearful that Tamaneshca, being the daughter of a convicted witch, will be held responsible by the local populace for any misfortunes that befall the area, she is raised in isolation by the nanny governess who took care of him through childhood.
He treats her with affection as his sister, but being the only man she knows, other than servants, she weaves a fantasy of marriage as his bride. Her dreams are shattered when a few days prior to the fifteenth anniversary of her arrival at the chateau, he informs her that he is to partake in a marriage of diplomacy to a princess from a neighbouring country, Princess Annalaise of Austria. Tamaneshca is unaware that her spells of magic and seduction will cause him to rebel against his diplomatic duty by refusing the arranged marriage. In anger, she takes revenge on the doll that in her imagination represents him, by smashing it on the floor.
Artheos, realising he is bewitched by her charms, proposes marriage to Tamaneshca. She accepts his proposal, but his premature death in a hunting accident a few days before the wedding convinces her the anger she vented on the doll was transferred to him. Her remorse summons the ancient spirits of lake and mountain in a pact drawn up by the 'lord of the forest' for Artheos to be returned to her from a future life in exchange for providing refuge in the isolated castle estate for the last packs of wolves in Western Europe. Although she must wait, protected by powers of magic for thirty years, she will not age providing she remains virtuous until his return. Her task will be to convince him that he is the reincarnation of the Duke, but failure will result in the loss of her soul to the dark forces.
Tony McCarthy is a session musician working for a recording studio in London. Driving through the mountains of Eastern France, to spend Christmas and New Year with his wife and young son, an accident forces the car into a ditch on a lonely stretch of road. Seeking the help of a village garage or local farmer with a tractor, he arrives at a lake where the only sign of habitation is a mediaeval castle owned by a strikingly beautiful young woman. She persuades him to stay the night at her secluded château, where he discovers there is no electricity or telephone. Due to snowstorms the single night stretches into three during which she tells a strange tale of magic in which their fates are irrevocably linked. Tony discovers an antique harpsichord in which he finds a hand-written sheet of music. She explains the composition as being a work he wrote for her in a life more than 200 years before the time he thinks of as the present. Seduced by her charms in a night of intense passion he questions whether the story is as unbelievable as he first thought.
Realising his actions have not been honourable—he is already married—he decides next morning, to resume his intended journey whatever the weather. Flight from the castle is hampered in the snow by the pursuit of a pack of wolves, until he trips, knocking himself unconscious. On waking, the snow has vanished, and the three nights he thought had passed, were in fact a single night. Convinced it was all fantasy, he continues his journey.
Tamaneshca wakes and reads the note he has left explaining he is already married. Knowing her quest has failed and her soul is now forfeit, she runs, oblivious to the freezing cold into the snow after him. Unable to catch him she construes death to be her only remaining option.
Arriving at his destination, Tony is shocked to hear that his wife, Annabelle, upset that they are never together, wants a divorce. Tony spends the next two weeks in a state of depression; frequenting all-night bars and other insalubrious places of entertainment, his life spirals into a pit of depravity.
One place he frequently hangs out in regularly have groups of musicians performing. He recognises one group having played on a recording session with them several months earlier. Persuaded to 'jam' with them, he warms up at the keyboard during their break. Aimlessly selecting tunes he realises he is playing the one Tamaneshca says he composed. From somewhere, words to fit the melody come to memory. His performance earns him a standing ovation, but the song leaves him cold with the only desire to return to the castle by the lake.
After many days of searching, he discovers the ruins of a castle in a setting similar to the one he remembers. Legend has it, he is informed, that the château was burned to the ground after two lovers made a pact with Satan some two hundred years before. It would seem his destiny ended before it began.
First draft of the novel is two thirds complete. Must finish it...
Note: Picture above is representation of the intended cover design only
© 2008 Robert A Read. aka Mysteral.
Return to Novel Index.